4th ISIRV AVG Conference _Further Instructions
Further Information for Delegates & Presenters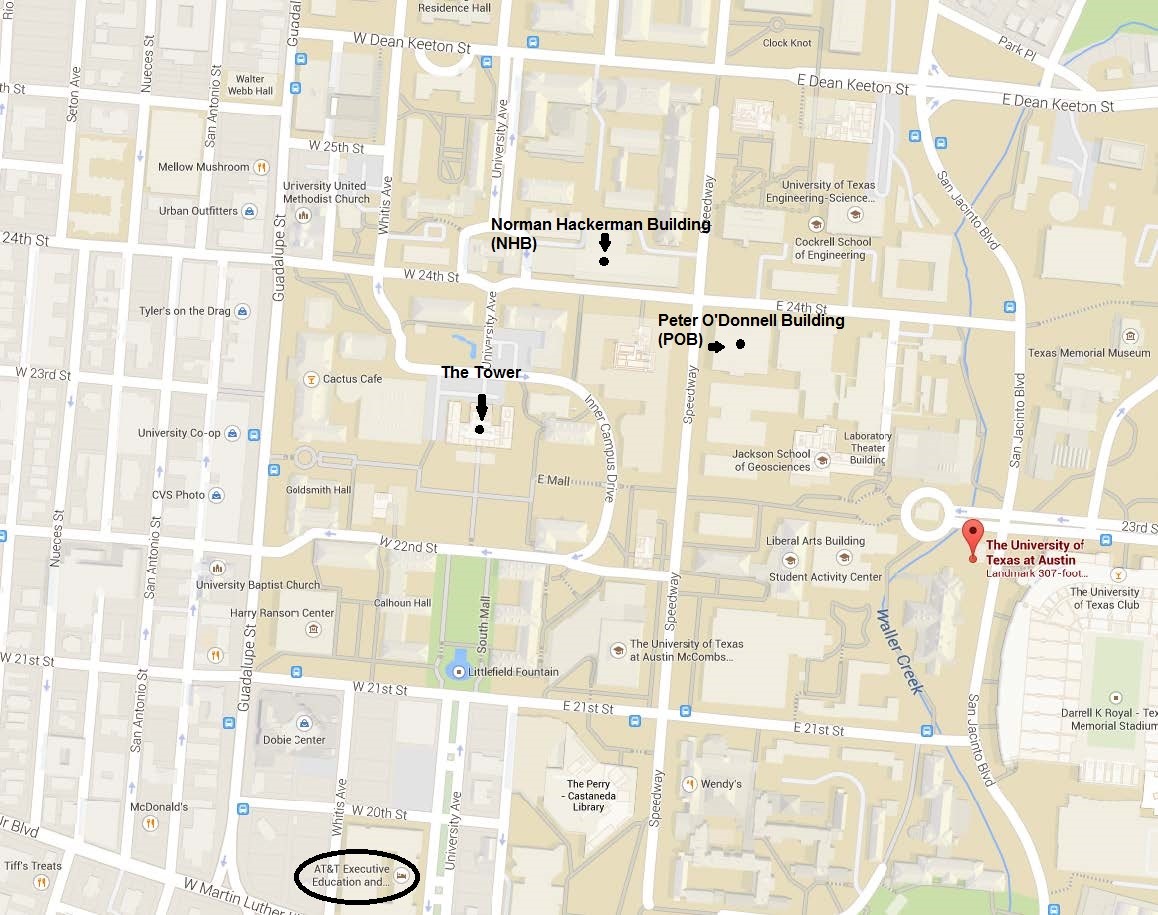 VENUE MAP

Please also note: ISIRV-AVG Press Release Policy
---
All the sessions will be held in the Avaya Auditorium, Peter O'Donnell Jr Building (POB) and lunch and the posters will be in the Norman Hackerman Building (NHB), just across from POB. Map attached.
Registration will take place outside the Avaya Auditorium and will open at 7.00am on Tuesday 2nd June.
Poster presenters will be able to put their posters up in the Norman Hackerman Building between 3.30-5.30pm on Monday 1st June and then from 8.00am on Tuesday 2nd.
All presenters please note that in the Auditorium 16:9 (wide screen), rather than 4:3, would be the better option for your slides, if possible. If not, it will still be fine, so please don't worry.
The Auditorium only has a PC but it does have a connection for a Mac. If this is an issue for you, please email lidadesouza@isirv.org
In case you have any very specific dietary requirements that we should be aware of, please email the organisers at lidadesouza@isirv.org
Please be aware that in the last 3-4 weeks the weather in Austin has been unseasonal and it has rained almost every day, usually late in the afternoon or evening, or overnight. Some of the rain is in the form of violent thunderstorms. You may wish to bring appropriate clothing!
We look forward to a great scientific meeting and to seeing you in Austin – safe journey!
---
2nd_IMRP_Committee
Organising & Scientific Committee

CHAIR
Gavin Smith


Duke - NUS Medical School, Singapore

COMMITTEE

Menno De Jong


University of Amsterdam, Netherlands

Frederick Hayden


University of Virginia School of Medicine, USA

Jean-Michel Heraud

Institute Pasteur, Madagascar

Peter Horby

Oxford University, UK

Lance Jennings

Canterbury Health Laboratories

Dept. of Pathology, University of Otago, New Zealand

Daniel Jernigan

Center for Disease Control and Prevention, USA

Nelson Lee

The Chinese University of Hong Kong

Vernon Lee

Ministry of Health | Singapore Armed Forces Biodefence Centre | NUS

Sebastien Maurer-Stroh

A* Star, Singapore

Peter Openshaw

Imperial College London, UK

Nikki Shindo

World Health Organisation, Geneva

Paul A Tambyah

National University of Singapore

Hong Jie Yu

Chinese Center for Disease Control and Prevention

Peoples Republic of China
4th_NIV_Committee
Organising & Scientific Committee

CHAIR

CO-CHAIR

Janet Daly


University of Nottingham, UK

Nicola Lewis


University of Cambridge, UK




COMMITTEE


Tom Chambers


University of Kentucky, USA


Ann Cullinane

Irish Equine Centre, Ireland

Todd Davis

CDC, Atlanta, USA
Susan Detmer

University of Saskatchewan, Canada
Gregory Gray


Duke-NUS Medical School,

Singapore & Duke Kunshan University, China


Takehiko Saito


National Institute of Animal Health, National Agriculture and Food Research Organisation (NARO), Japan

Stacey Schultz-Cherry


St Jude Children's Research Hospital, USA
Gaëlle Simon

Anses, Swine Virology Immunology Unit, France
Nitin Virmani


National Research Centre on Equines, India

Christopher Hamilton-West

University of Chile, South America
5th NIV_Committee
Organising & Scientific Committee

CHAIR

Andy Bowman


The Ohio State University, USA


ORGANISING

COMMITTEE





Tom Chambers
University of Kentucky, USA
Ann Cullinane

Irish Equine Centre, Ireland

Janet Daly
University of Nottingham, UK
Stacey Schultz-Cherry
St Jude Children's Research Hospital, USA
Jacqueline Nolting

The Ohio State University, USA

SCIENTIFIC

COMMITTEE

Todd Davis

CDC, Atlanta, USA
Gregory Gray


Duke-NUS Medical School,

Singapore & Duke Kunshan University, China


Christopher Hamilton-West
University of Chile, South America
Ghazi Kayali

Human Link, Lebanon
Takehiko Saito


National Institute of Animal Health, National Agriculture and Food Research Organisation (NARO), Japan

Nitin Virmani


National Research Centre on Equines, India

Maria Zhu

University of Hong Kong, Hong Kong