MEMBERSHIP BENEFITS...

Discounted isirv conference rates
Opportunities to network and connect with world experts in the field of respiratory virus diseases
Member Login
NEWS & EVENTS
News
Past Events
CONTACT
CURRENT NEWS: COVID-19 UPDATES

SARS-CoV-2
Crown copyright – image supplied by Matthew Hannah, Public Health England
12th International RSV Symposium POSTPONED - future dates tbc

ICC Belfast, Northern Ireland MEETING POSTPONED

RSV2020 will be hosted in Belfast, N.Ireland in an award-winning venue. It follows on the success of RSV2018, and will deliver an equally impressive programme of similar format.
Visit the Website
5th International NIV Symposium

POSTPONED - future dates tbc
Columbus, Ohio, USA MEETING POSTPONED

The next meeting in the Neglected Influenza Viruses (NIV) series will explore the latest data on surveillance and disease investigation, virus transmission and control, clinical and experimental virology and emerging issues plus new developments related to swine, equine, canine and other non-human/non-avian influenza viruses.
Visit the Website
The 10th edition of the Options for the Control of Influenza conference in Singapore ended on 1 September 2019.
The 11th meeting in the series, OPTIONS XI, will be held in Milan, Italy, 2022.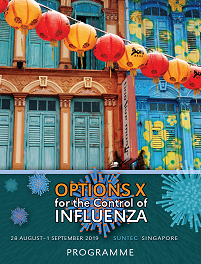 Attendance Certificates can be requested from secretariat@isirv.org
OPTIONS X Programme
Global Influenza Update

An Influenza update from WHO can be found here.
Influenza Vaccine

The recommended composition of influenza virus vaccines for use in the 2020-21 northern hemisphere influenza season can be found here.
Zoonotic Influenza

Antigenic and genetic characteristics of zoonotic influenza viruses and candidate vaccine viruses developed for potential use in human vaccines is here.
MERS-CoV

Information and links to other sources of information on this evolving situation is available in the news section.
2nd Epidemiology Meeting: Incidence, Severity and Impact of Influenza - Stockholm, 16-18 January 2019

Meeting Report now available
6th AVG Conference: Advances in Respiratory Virus Therapeutics | Washington DC, USA 13-15 November 2018

This conference addressed both pre-clinical and clinical advances in therapeutic and prophylactic agents for influenza, RSV and other respiratory viruses and regulatory issues central to advancing such agents to clinical practice. A report has been published in Antiviral Research with free access till 4th June.Read more
New Special Interest Group is announced - International Respiratory Syncytial Virus Society

In mid-2017, the International Respiratory Syncytial Virus Society (IRSVS) became a special interest group of isirv. The IRSVS is a global independent group of RSV professionals, with members from all continents working on all research fronts. The IRSVS's goal is to ensure that there is a succession of venues to share scientific information and accelerate the development of strategies to reduce the impact of RSV infection. Read more...
Highlights from Influenza 2018: Centenary of the 1918 Pandemic | 24-26 June at the Crick Institute, London

The greatest public health disaster in recorded history, the Spanish Flu, began in springtime of 1918 and developed within a few months into a global pandemic with an estimated 50-100 million deaths. By its end, the pandemic had caused a reduction of life expectancy in the US by 12 years, and killed more people than died in the First World War. Read more...
Immunological Assays and Correlates of Protection for Next Generation Influenza Vaccines: 31 March - 2 April 2019, Siena, Italy
This conference addressed new immunological assays and immune correlates of protection needed to estimate the immunogenicity and protective efficacy of next generation influenza vaccines currently being developed.Visit the website
2nd Epidemiology meeting: Incidence, Severity and Impact of Influenza 16-18 January 2019, Stockholm

Final Programme here. See Meeting report
The ISIRV Journal, Influenza and other Respiratory Viruses, is now published in an online only format. No printed issue will be produced but authors will still be able to order offprints of their own articles. ISIRV members will receive a 10% discount for articles submitted.
Contact membership@isirv.org for the code.