Upcoming Event
Watch this Space....
---
Recent Events
6th ISIRV-AVG Conference: Advances in Respiratory Virus Therapeutics | Washington DC, USA 13-15 November 2018 This conference addressed both pre-clinical and clinical advances in therapeutic and prophylactic agents for influenza, RSV and other respiratory viruses and regulatory issues central to advancing such agents to clinical practice. A report has been published in Antiviral Research with free access till 4th June.Read more

Highlights from Influenza 2018: Centenary of the 1918 Pandemic | 24-26 June at The Crick, London
The greatest public health disaster in recorded history, the Spanish Flu, began in springtime of 1918 and developed within a few months into a global pandemic with an estimated 50-100 million deaths. By its end, the pandemic had caused a reduction of life expectancy in the US by 12 years, and killed more people than died in the First World War. Read more...
5th ISIRV-AVG Conference, Shanghai, June 2017: Prevention and treatment of respiratory viral infections: Presentations on antivirals, traditional therapies and host-directed interventions at the 5th ISIRV Antiviral Group conference – the Meeting Report…. read more
European Medicines Agency Concept paper on a guideline on the evaluation of medicinal products indicated for treatment of influenza. This concept paper proposes the development of a guideline on the clinical evaluation of medicinal products indicated for the treatment of influenza for which there is no regulatory guidance currently available within the EU… read more
GISAID-ISIRV-WHO Workshop on 'Genetic Analyses of Influenza Viruses', 29th August 2016, Northwestern University, Chicago GISAID in collaboration with Northwestern University and the International Society for Influenza and Other Respiratory Virus Diseases (isirv) organised a training workshop on Genetic Analyses of Influenza Viruses at Northwestern University on 29 August 2016 in Chicago, following the IX Options for the Control of Influenza Conference, 24-28 August.The purpose of the training workshop was to enable laboratories to contribute to and benefit from the extensive genetic and related data on influenza viruses, in relation to understanding the epidemiology of influenza, the evolution of the viruses and the emergence and spread of novel genetic and antigenic variants. Participants were instructed in the use of GISAID's new EpiFlu™ 2.0 database, its novel features and advanced analysis tools for the identification (and display on phylogenetic trees) and interpretation (using FluSurver) of mutations underlying the evolution and antigenic variation of human and animal influenza viruses. Enhanced capacity to analyse and understand the relationships among influenza viruses is aimed at stimulating increased interaction between institutions involved in human and animal influenza surveillance and research. The programme included a combination of brief lectures, demonstrations and hands-on training – see attached.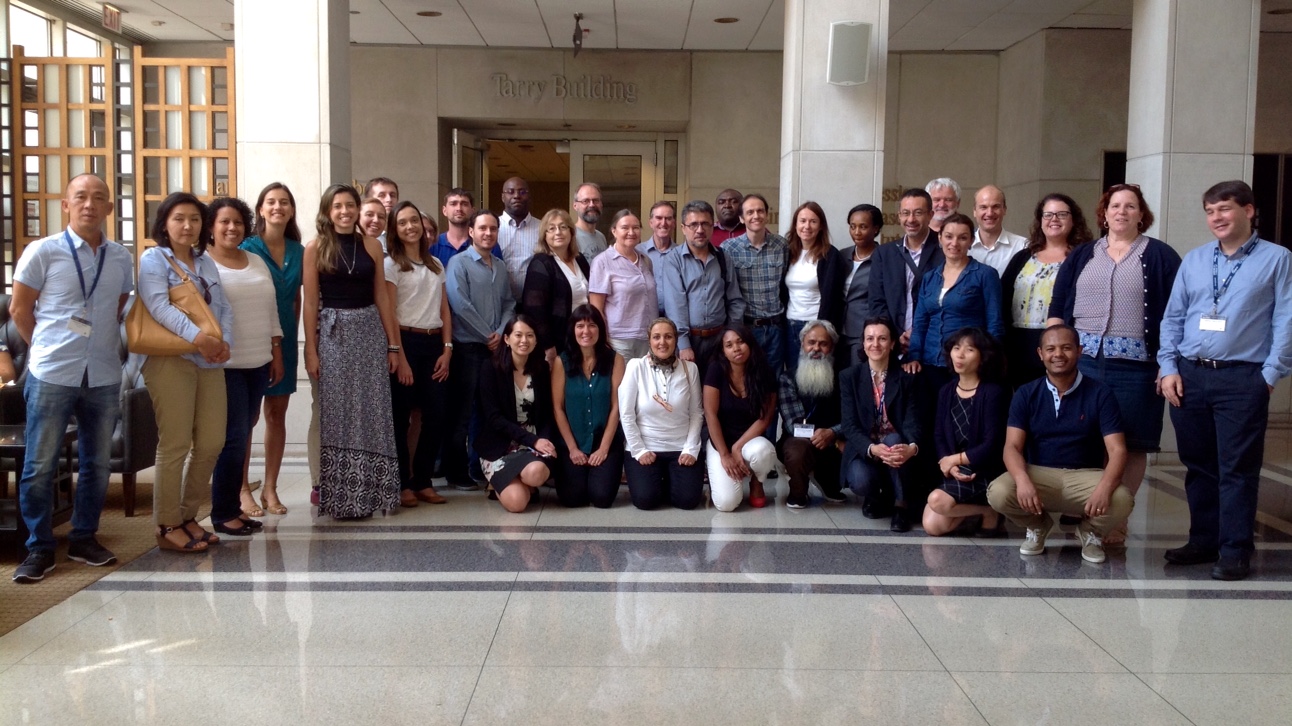 AVG Overview
The isirv Antiviral Group (isirv-AVG) was established as a special interest group of isirv at the time of merger in April 2011 of the former Neuraminidase Inhibitor Susceptibility Network (NISN) with isirv.
Its specific objectives are to promote understanding of the clinical use of antivirals against respiratory viruses, collate and provide up to date information on the emergence of antiviral resistance, and communicate expert commentary on preclinical and clinical development of potential novel/new antivirals in this area. Read More
AVG Meetings

Training Workshop on Genetic Analyses of Influenza Viruses, Hong Kong Polytechnic University, 21-22 November 2015

The 2-day training workshop on Genetic Analyses of Influenza Viruses, organised by isirv in conjunction with the GISAID Initiative, the WHO Global Influenza Surveillance and Response System and the Hong Kong Polytechnic University, was held at the Polytechnic University on 21-22 November 2015. The 33 trainees, from 24 countries, received instruction in the use of GISAID's EpiFlu™ database and its new EpiFlu™ 2.0 platform, with its novel features and advanced analysis tools for the identification and interpretation of mutations underlying the evolution and antigenic variation of human and animal influenza viruses. Participants received financial support from the WHO, its Western Pacific regional office and isirv.
A summary report can be found here.

4th isirv Antiviral Group Conference, 2- 4 June 2015
The University of Texas at Austin, Texas, USA



The 4th AVG Conference held at the University of Texas on 2-4 June attracted a capacity audience of 200 registered participants. Against a backdrop of resistance to the licensed antivirals against influenza viruses and the lack of effective interventions against other respiratory viruses, the 3-day programme focused on the discovery and development of inhibitors of novel virus targets and key host cell factors. In relation to the development of monoclonal antibodies as therapeutics, the potential implications of antibody-dependent enhancement of disease were also addressed. The ten sessions covered the whole gamut of steps from structural and molecular biology to clinical studies, and included consideration of clinical trial endpoints and regulatory issues.

The inaugural 'live' twitter coverage was a very successful innovation. More than 160 tweets under the hashtag "#isirvAVG2015" were posted and the number of twitter "followers" of isirv-AVG doubled. The social media coverage not only showcased the speakers but also reached out to the wider scientific community. The "Meeting Report" can be foundhere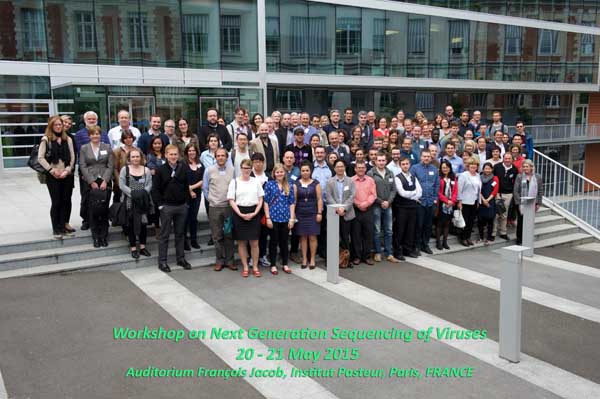 The Workshop on Next Generation Sequencing (NGS) of Viruses, organised by the isirv-AVG in conjunction with GISAID and the PREDEMICS Consortium, held at the Institut Pasteur, Paris on 20-21 May 2015 attracted 117 registered participants. The 2-day expert workshop covered various aspects of current sequencing technologies, data processing and analysis of data for a variety of RNA viruses, with a particular focus on quality and interpretation of results and the significance and use of NGS data for public and animal health.
A summary can be found here

Antiviral News

Advances in Respiratory Virus Therapeutics - A Meeting Report from the 6th ISIRV Antiviral Group Conference

This report (free access to the article up to 4 June, 2019) provides a summary of the presentations given at the meeting. Read more
Influenza Virus Polymerase Inhibitors in Clinical Development
The antivirals, favipiravir, pimodivir, and baloxavir, which inhibit subunits of the influenza polymerase complex, are advancing in clinical development and promise to add to the clinical management options and overall control strategies for influenza virus infections …. read more
Susceptibility of Influenza Viruses to the Novel Cap-Dependent Endonuclease Inhibitor Baloxavir Marboxil
The novel cap-dependent endonuclease inhibitor baloxavir marboxil was approved for the treatment of influenza A and B virus infections in February 2018 in Japan. Because of the need to monitor influenza viruses for reduced susceptibility to this drug, we used two cell-based screening systems – a conventional plaque reduction assay and a focus reduction assay – to evaluate the susceptibility of influenza viruses to baloxavir.… read more
The CDC Responds to Approval of New Flu Antiviral Drug…. read more
XOFLUZATM (Baloxavir Marboxil) Tablets 10mg/20mg Approved for the Treatment of Influenza Types A and B in Japan… read more
Prevention and treatment of respiratory viral infections: Presentations on antivirals, traditional therapies and host-directed interventions at the 5th ISIRV Antiviral Group conference – the Meeting Report…. read more